WritersRoom Pro® – Home
The key to your
remote
writers' room
In person, hybrid or fully remote, WritersRoom Pro® is the only browser-based TV and film development platform designed by a professional showrunner. We're not just a remote solution...we're the digital evolution of your writers' room.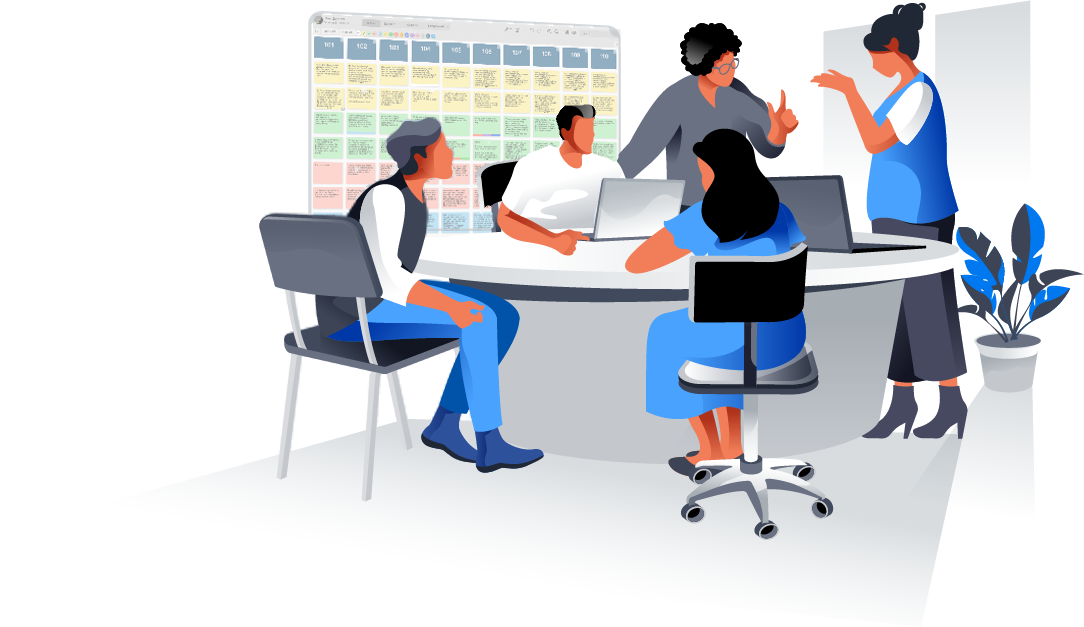 WRITERSROOM PRO® IS USED BY
Studios, Broadcasters, & Companies
ALL THE BOARDS YOU ALREADY KNOW

Season, episode, cast, & scrap boards.

FAST PROJECT SETUP

Setup a new show in less than 30 seconds.

COLOR CODE THE CARDS

Add up to four colors per card.

FINAL DRAFT & WORD READY

Export to Final Draft & Word in just three clicks.

DRAW & HIGHLIGHT

Use the pen tool to highlight and freehand draw on any card.

LOCK & HIDE

Episodes can be selectively locked and hidden from any and all team members.

DETAILED SEARCH

Find that needle in the haystack with instant search results.

TEXT & IMAGE CARDS

Create eight different types of cards using text and pictures.
What THE PROS ARE SAYING ABOUT WRITERSROOM PRO®
WritersRoom Pro has been an incredible asset. In some ways it's even faster than our normal boards because we can just type up an idea and, boom! It's up there for everyone to see.
I have no idea how I survived without WritersRoom Pro! I have now begun using it for all my personal projects in addition to my room, and have started teaching with it because it's so helpful. I'm a huge fan.
WritersRoom Pro is a game changer. Whether we're in the room or on Zoom it has been the BEST thing to happen to story breaking since the white board. We honestly can't live without it.
WritersRoom Pro is intuitive, sleek, and an essential tool for obsessively organized writers like myself.
Easy to understand, set up, and use, WritersRoom Pro allows you to do everything you're used to doing with traditional story room note cards, while massively expanding your capabilities with terrific outline generation and remote collaboration features. If you're a screenwriter in TV or film, you should be using WritersRoom Pro!
We started using WritersRoom Pro when the room went virtual and it was a lifesaver. It re-created the exact feel of the boards in the writers' room and I will continue to use it when we all go back.
WritersRoom Pro saves time, money, and more importantly, mental anguish -- knowing that you don't have to stress out if you misplace notes or notecards. It's a game changer!
WritersRoom Pro is very well designed, with an intuitive interface and features that ease the story breaking process.
I love Writersroom Pro and encourage all the writers I coach to use it. From episode beats, to season beats to character arcs -- it's the only app that most closely resembles a physical writer's room.
Coming Soon...WritersRoom Pro® v2.0
We're starting the New Year right with a fully-updated WritersRoom Pro®.
Indie Edition
For Single Users
1 Project Owner
Email & Chat Support
Backups stored while subscription is active
1 Scrap Board
Text and Character Cards
14 day Free Trial
Partner Edition
For Two Users
1 Project Owner, 1 Collaborator
Email & Chat Support
Backups stored while subscription is active
1 Scrap Board
Text and Character Cards
14 day Free Trial
Studio Edition
Unlimited Users
$Let's Talk
Unlimited Collaborators
Phone, email, and chat support
Backup Stored Forever
Unlimited Scrap Boards
Text, Character, & Image Cards
Data Encrypted at Rest & In Transit
Digital Watermarking
Private Server Available
Custom Migration Available
14 Day Free Trial