First, thanks for signing up for WritersRoom Pro. You're about to turn your TV and film development power to 11, so let's get started.
Just so we're all on the same page, you've likely received a series of emails telling you how to set up your WritersRoom Pro account. If you didn't get the emails please check your JUNK folder. The key email will look similar to this and be from 'noreply@writersroompro.com':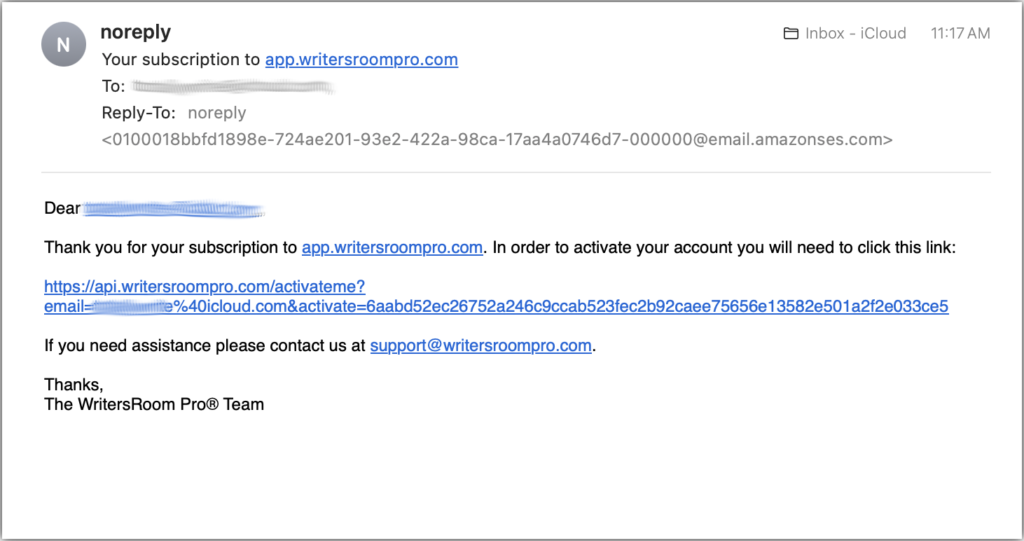 If the email isn't in either your inbox or one of your junk/spam folders, it's possible that you already have an account with WritersRoom Pro which means you're already in the system. Try logging in to your previous WritersRoom Pro account. And if that doesn't work, shoot out an email to us at support@writersroompro.com and we'll help sort out the issue.
Create Your Personal WritersRoom Pro Account
Click on the big link in the middle of the email, the one that begins with "https://api.app.writersroompro.com/inviteme?…" You will be brought to the following screen: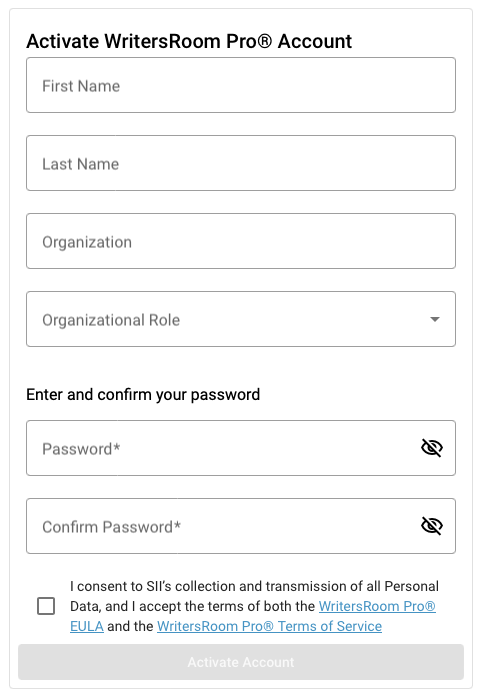 This is the next step in creating your personal account. Enter your name, your 'organization' (if any), your organizational role, and your password. Clicking on the "I consent…" button sounds scary, but the only information we collect is what's on this form and your email, and only for logging in verification. We don't collect any other personal data like addresses, phone numbers, etc. 
Click on the 'Activate Account' button and you're done. If you're not redirected to the login page, you can get there at https://app.writersroompro.com.
BOOKMARK THAT ADDRESS!! This is our number one support call: people trying to login from the main WritersRoom Pro page where they subscribed and not the web app page. So once again, please bookmark the login page at:
https://app.writersroompro.com
Next up, logging in.